DOGGY SPLASH PARTY 2012 & CHINESE AUCTION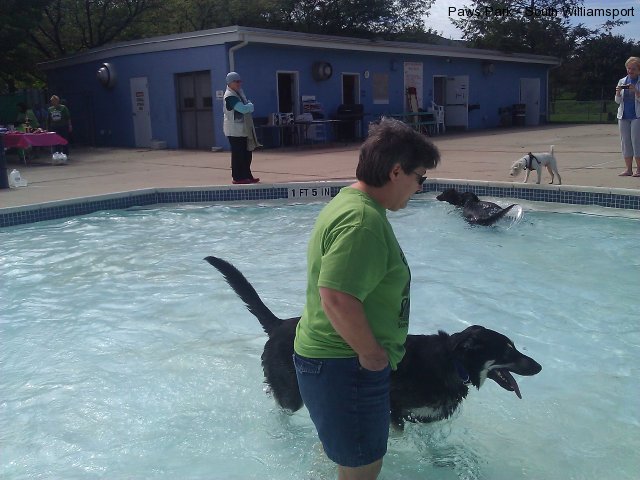 Come support Paws Park and get wet with your pooch!
WHAT:       DOGGIE  SPLASH  PARTY/ CHINESE AUCTION
WHEN:       SUNDAY,  AUGUST 19TH, 2012  NO RAIN DATE 2pm-4pm
WHERE:     SOUTH WILLIAMSPORT COMMUNITY PARK POOL
EAST CENTRAL AVE, SOUTH WILLIAMSPORT  (BEHIND THE LITTLE LEAGUE WORLD SERIES STADIUM)
BENEFITS:  THE FRIENDS OF PAWS PARK & SOUTH WMSPT. K9 POLICE UNIT
WHY:  THIS DOGGIE POOL PARTY OFFERS WELL-MANNERED DOGS AND THEIR FAMILIES THE OPPORTUNITY TO TAKE AN END-OF-THE-SEASON DIP BEFORE THE POOL IS EMPTIED FOR THE WINTER.
A DOG AND ONE HUMAN COMPANION (18+ YEARS OF AGE)  CAN SWIM FOR JUST $5 AND A SMALL ADDITIONAL FEE  OF $2 FOR A FRIEND OR FAMILY MEMBER.  TWO DOGS PER HANDLER
MARK YOUR CALENDAR NOW AND JOIN US FOR SOME GOOD CLEAN FUN WHILE HELPING THE FRIENDS OF PAWS PARK AND THE POOL PROJECT.
*************************************************************************************
BASIC RULES FOR THIS EVENT
SOCIAL DOGS ONLY
PLEASE BATHE YOUR DOG PRIOR TO THIS EVENT
ALL DOGS MUST SHOW PROOF OF CURRENT VACCINATIONS AND WILL BE CHECKED
****NO CHILDREN UNDER THE AGE OF 12 WILL BE ALLOWED INSIDE THE POOL AREA DURING THIS EVENT FOR SAFETY REASONS CHILDREN AGE 12-17 MUST BE ACCOMPANIED BY AN ADULT
NO OUTSIDE FOOD OR DRINK (PET OR HUMAN) ALLOWED. CONCESSIONS AVAILABLE.
ALL DOGS MUST WEAR A FLAT COLLAR AND HAVE A LEASH HANDY.  NO PRONG OR CHOKE  COLLARS ALLOWED
NO FEMALE DOGS IN HEAT OR DOGS UNDER FOUR MONTHS OF AGE ALLOWED
BRING YOUR OWN DOGGIE TOWELS. TOYS ENCOURAGED.
LAWN CHAIRS ALLOWED
CHINESE AUCTION ITEMS:
MUST BE PRESENT TO WIN Proceeds to Paws Park and S.Wmspt K9 Unit
Mirrored Oak Medicine Cabinet with towel rack valued at $265.00 DUBOISTOWN DELI
Fish themed bathroom set – valued at $160.00 KRESSLEY'S
Wilkes Barre/Scranton Yankees 2011 Team Autographed Helmet with Certificate of Authenticity – Valued at $265.00 WB/
SCRANTON YANKEES
Black Leather Purse – valued at $95.00 TORY LEATHER Pro Wheel warm cap & Acerbis can coozie/Scotch 3M T-shirts
Gift Certificate for 1 – 6" x 6" Black Marble Laser Engraving – valued at $60.00 JP STONE
Gift Certificate for Initial Visit and Evaluation & tube of Biofreeze – valued at $70.00 DEWALD'S CHIROPRACTIC
Gift Certificate for PIZZA PINS & POP – valued at $55.00 FAXON LANES
Gift Certificate for 1 – 30" regular, ham OR turkey sub – Valued at $12.00 KEVIN'S PLACE